Posted by

Noa
on July 21, 2016 - 10:05pm
Beautiful, affordable, and sustainable; Timbercrete is hard to beat for building homes. Worried about Global Warming?  Here's one answer.   I want one, how 'bout you? ~ Noa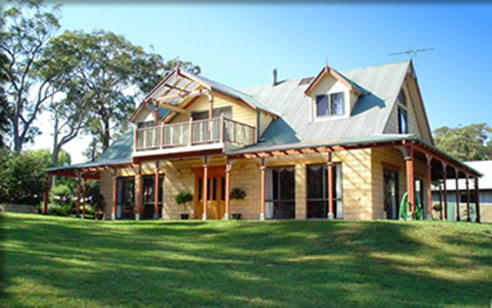 The Story Of Timbercrete Bricks and Blocks
Back in 1994 Peter Collier was simply a family man who wished to devise a way of building a home for his family with almost zero resources. As a successful professional Potter, Ceramic Technician, and Artist, he was familiar with clays and other related materials. With 25 years experience with these materials and in his different areas, he was a man gifted with the ability to think outside the box.
He had a dream to create a building material that would provide his need for a family home at an affordable cost, as well as helping others to also achieve this dream. Without the ability to acquire bank assistance, Peter began experimenting with various raw materials with a view to devising a cost effective material to build his house with.
He believed it was Divine inspiration when his attention was directed to specific experiments that finally developed a formula blending cellulose, cement, sand and binders with other meterials into a building block with unique qualities. Today, this is known as Timbercrete.
Some of the projects in which Timbercrete has been able to be a blessing include:
Building homes for underprivileged families via Habitat for Humanity (Australia)
Training Indigenous Australians and Canadians to manufacture blocks for their own housing needs (Perth, Dubbo, Canada)
Training people from Third World or developing countries to use Timbercrete in micro-enterprises (including India, Africa, South Africa and Fiji)
Providing training for Nationals to build low cost orphanages and schools (Sri Lanka, Argentina, Romania, Pakistan)
See the Timbercrete Home Gallery:
http://www.timbercrete.com.au/gallery_internal.html
Specs:
Significantly improved environmental benefits. It is the only brick; block, panel or paver that actually stores (traps) carbon gas. Timbercrete is made from discarded timber a waste product (containing carbon) which is sequestered in a cementitious tomb. This process offsets the carbon gas emissions of thousands of cars per year. Being a carbon trap or a carbon sink it locks up thousands of tonnes of carbon gases annually. The more widely Timbercrete is used the greater the amount of carbon gas that is sequestered.
It has a lower embodied energy; because it takes vastly less energy to produce compared to traditional clay fired bricks.
A significantly improved insulation value (R) when compared to traditional clay and concrete bricks, blocks and panels.
Improved thermal mass, (specific heat) when compared with other insulating products. Thermal mass is the ability of a product to store thermal energy and release it slowly.
Improved engineering diversity, due its lighter semi flexible quality.
Lighter weight (2.5 times lighter than concrete or clay).
Improved workability, it can be nailed and screwed just like timber.
Improved fire rating compared to concrete, clay, timber or steel.
FRL240/240/240 (at 190mm thick). Exceeding the highest possible fire rating.
It is bullet proof when fired at with a vast array of weaponry, even a 50 calibre metal jacket bullet. Other commonly used building products, such as clay or concrete bricks and aerated concrete shatter even when using lower powered weaponry.
Environmental Statistics
Timbercrete Carbon Sequestration
Sawdust currently used
5,200,000 litres p.a.
Carbon sequestered
2,143m3 p.a.
CO2 Saving
10,581 tonnes p.a.
Number of cars offset
2,461
Timbercrete Production Energy Usage
Average amount of energy required electricity & diesel per house
 
9.94kg