Posted by

Noa
on August 29, 2012 - 7:16pm
Dr. Jose Arguelles has initiated so many projects for peace, that I wonder why I haven't heard his name before now.  He is also a promoter of the "natural" 13-month, 28-day calendar. Now, Dr. Arguelles is uniting earth's people with a weekly Rainbow Bridge Mediation.  I hope you'll join us. ~ Noa
"We have to go from the irregular Gregorian calendar to the perfect, harmonic, perpetual, 13-month/28 day calendar. The Aztecs used this calendar, the Druids, the Incas of South America...it's the universal calendar."~ José Argüelles
JOSÉ ARGÜELLES OFFICIAL BIOGRAPHY:
Messenger of the Law of Time: José Argüelles aka Valum Votan
Perhaps best known for his role in initiating the world famous Harmonic Convergence global peace meditation of August 16-17, 1987, José Argüelles was also one of the originators of the Earth Day concept and is recognized as the "father of the Whole Earth Festival," now in its 33rd year at Davis, California.
But it is his pioneering research of the Mayan calendar system that has absorbed his energies most passionately. Ever since he had a visionary experience at the age of fourteen atop the Pyramid of the Sun, Teotihuacan, Mexico in 1953, he has pursued a lifelong investigation of the mathematics and prophecies associated with the Mayan calendar.
His explorations and deciphering of the Mayan calendar has resulted in an interactive game called "Dreamspell - the Journey of Timeship Earth 2013," (a universalized expression of the mathematics of the Mayan Calendar for modern humanity), and the discovery of the Law of Time. According to the Law of Time, modern humanity is in trouble because it is immersed in an erroneous and artificial perception of time which causes it to deviate at an accelerated rate from the natural order of the universe. To remedy this situation, Argüelles has been promoting the return to a natural timing cycle through the regular measure of the Thirteen Moon 28-day calendar.
Since the end-date of the current Great Cycle of the Mayan calendar is in the year 2012, in order to survive the worst, humanity must make a shift to natural time - and soon. According to Argüelles, the time for this shift is from July 26, 2004 through July 26, 2012, the Great Calendar Change, when he is calling upon humanity to reject the current calendar and adopt the natural time Thirteen Moon 28-day calendar. 
Get a free 13 Month 28-day calendar here: 
http://www.lawoftime.org/thirteenmoon/freecal.html
http://lawoftime.org/rainbow-bridge/rainbow-bridge-is-universal-peace.html
Rainbow Bridge = Universal Peace
"There will come a time when the birds will fall from the trees, the rivers will be poisoned and the wolves will die in the forests. But then the warriors of the rainbow will appear and save the world."
—Cree Indian saying
What: Create a circumpolar rainbow bridge around the Earth.
Who: Everyone (all are included in the rainbow!)
Why? To generate a world-wide telepathic wave of love that encompasses the whole Earth and all sentient beings, creating an interdimensional bridge and opening the stargate to other world systems.
How? Through a rolling wave of synchronized global meditations, we can connect our collective mind and electromagnetic field with that of the Earth.
When: Beginning on the Day Out of Time, 25, July, 2012, Kin 58. We continue this meditation every seven days to build a rolling wave of unity that culminates in the three days leading up to 21 December, 2012 (Rhythmic 9/Kin 207). On every 28th day of the 13 Moon calendar we practice a more detailed meditation. See here. 
Here are the dates:
25 July (Day out of Time, Kin 58)
1 August (Magnetic 7, Kin 65)
8 August (Magnetic 14, Kin 72) + Galactic activation portal day!
15 August (Magnetic 21, Kin 79)
22 August (Magnetic 28, Kin 86)
29 August (Lunar 7, Kin 93) + Galactic activation portal day!
5 September (Lunar 14, Kin 100)
12 September (Lunar 21, Kin 107) + Galactic activation portal day!
19 September (Lunar 28, Kin 114) + Galactic activation portal day!
26 September (Electric 7, Kin 121)
3 October (Electric 14, Kin 128)
10 October (Electric 21, Kin 135)
17 October (Electric 28, Kin 142)
24 October (Self-Existing 7, Kin 149) + Galactic activation portal day!
31 October (Self-Existing 14, Kin 156)
7 November (Self-Existing 21, Kin 163)
14 November (Self-Existing 28, Kin 170)
21 November (Overtone 7, Kin 177)
28 November (Overtone 14, Kin 184) + Galactic activation portal day!
5 December (Overtone 21, Kin 191)
12 December (Overtone 28, Kin 198)
19 – 21 December (Rhythmic 7-9, Kin 205-207) Let's focus our mind for these three days on the image of the rainbow bridge. Wherever we may find ourselves on these three days, whether it be at home or at a sacred site, let's unify our mind to create a permanent positive thought vibration around the planet by visualizing the rainbow bridge as the sign of Earth's return to Her original state of pristine harmony and peace!!  
"I am one with the Earth, the Earth and myself are one mind."    
Join us in spreading the rainbow bridge meditation and image to as many people as possible as a sign of world peace, healing and happiness for all. Everyone is included in the rainbow.  To find out more go to www.lawoftime.org/rainbowbridge and Facebook.com/GalacticSynchronization). To learn about rainbow science see "Charming the Rainbow Serpent" at noosphereforum.org.
Also visit "Rainbow Bridge Around Earth"
Rainbow Bridge Meditation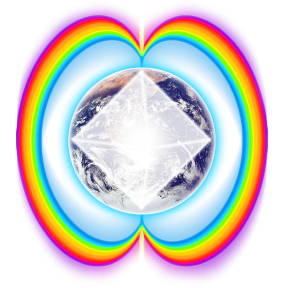 Before the meditation it is good to take a few moments to clear your mind, dissolving all thoughts as they arise. Also focus on feeling love arise in your heart. When you feel your mind clear, then begin the visualization.
Visualize yourself inside the Earth's octahedron crystal core. Feel your heart at the center of this crystal core generating an intensely blazing point of white light.
This light from your heart core creates an etheric column that extends to the North and South poles from the blazing center to the tips of the octahedron.
Now visualize a great stream of multicolored plasma-filled light emanating from your heart core and flowing along the central axis toward both of Earth's poles, shooting out from them, to become two rainbow bands 180 degrees apart.
As Earth revolves on its axis, this rainbow bridge remains steady and constant, unmoving. Feel the two streams of rainbow light rushing through your central column, shooting out from above your head and beneath your feet to create a rainbow bridge around your body.
Now you and the rainbow bridge are one. The rainbow bridge of world peace is real. Visualized by enough people in a telepathic wave of love the rainbow bridge will become a reality.
On day 28 of every moon we practice a more detailed visualization, click here for instructions.  [Or watch the meditation videos below.]

It is recommended to do the 28 day practice in a larger group, seated if possible in a circle with a globe in the center perhaps surrounded by four (or more) candles. The idea of meditating the whole Earth, feeling how it is a total simultaneity of experience is very important for the cultivation of noospheric consciousness.
The 3rd video wouldn't embed. Go to: http://www.youtube.com/watch?feature=player_embedded&v=JJQVTPHdbJY